With love from France, on the occasion of India's 75th Independence year !
From March to May, 100+ French cultural events throughout India!
France and India enjoy a substantive partnership at the core of which lie its people-to-people relations, nurtured for decades through collaborations and exchanges. One of its manifestations is the regular rendezvous between our two countries, Bonjour India. This artistic, cultural, educational and social initiative is an Indo-French moment put together by the French cooperation network in India mainly comprising of the Embassy of France and its cultural service, Institut Français en Inde, the Alliance Française network and the Consulates of France.
PLEASE FIND BELOW THE PROGRAM FOR BHOPAL 
WALL ART FESTIVAL – STREET ART PERFORMANCE
The artist, LILI TOTAS, will be performing a public Street Art mural at Alliance Francaise from Friday 22th April > Sunday 24th April.
---
EXBHITION – QUALITY STREET ART  [22/04 > 08/01/2022]
The artist, LILI TOTAS, will be also inaugurating a collective Street Art Exhibition on the Friday 22th April – 6.30 PM @ Alliance Francaise de Bhopal [visible until the 08/05/2022]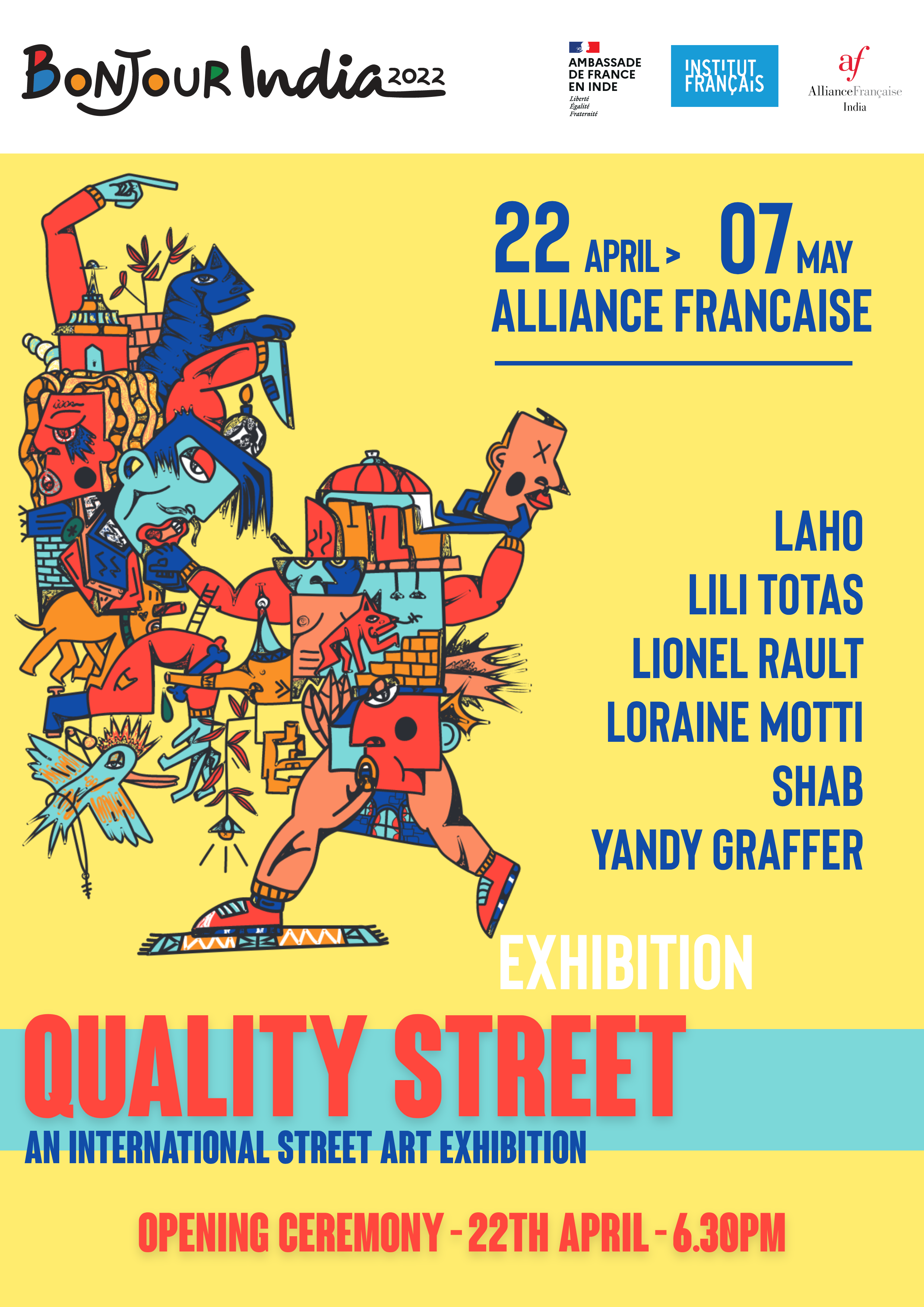 Credits : SHAB
Invited artists – Lili TOTAS [BRAZIL – HONDURAS], SHAB [FRANCE], Loraine MOTTI [FRANCE], YANDY [PERU], LAHO [FRANCE] & Lionel RAULT [FRANCE]
—————————————————————-
More information about Wall Art Festival : CLICK HERE
—————————————————————

[IN]Chorus – Strings Together – Saturday 30th APRIL – Gohar Mahal
InChorus is a musical platform for the promotion of promising young musicians of all genres, Indian and French, through residencies, concerts, meetings and workshops. The idea of this platform is to encourage a talented Indian musician to participate in the development of a musical project or to strengthen an already existing collaboration with a Francophone artist.
In partnership with
—————————————————————-
For REGISTRATION and for more information about this event : CLICK HERE
—————————————————————-

FILM SCREENING – DELICIEUX + COCKTAIL [14/05 ]
—————————————
Bonjour India, France's cultural festival in India sets the tone, by bringing to you a few evenings/afternoons of summer splendor with movies, meals and music.
————————————————————–
More information about DELICIEUX : CLICK HERE
————————————————————–

EXBHITION – PARMANAND DALWADI – A TRIP TO FRANCE, 1970 [21/05 > 29/05/2022]
Experience Dalwadi's journey to France in the 70's traced in 50 photographs. Captured with his Nikon F, these also showcase the influence of Cartier-Bresson on his art.
————————————————————–
More information about DALWADI – A TRIP TO FRANCE, 1970 : CLICK HERE
————————————————————–
---
MORE INFORMATION ABOUT BONJOUR INDIA FESTIVAL – PLEASE SCAN THE QR CODE BELOW